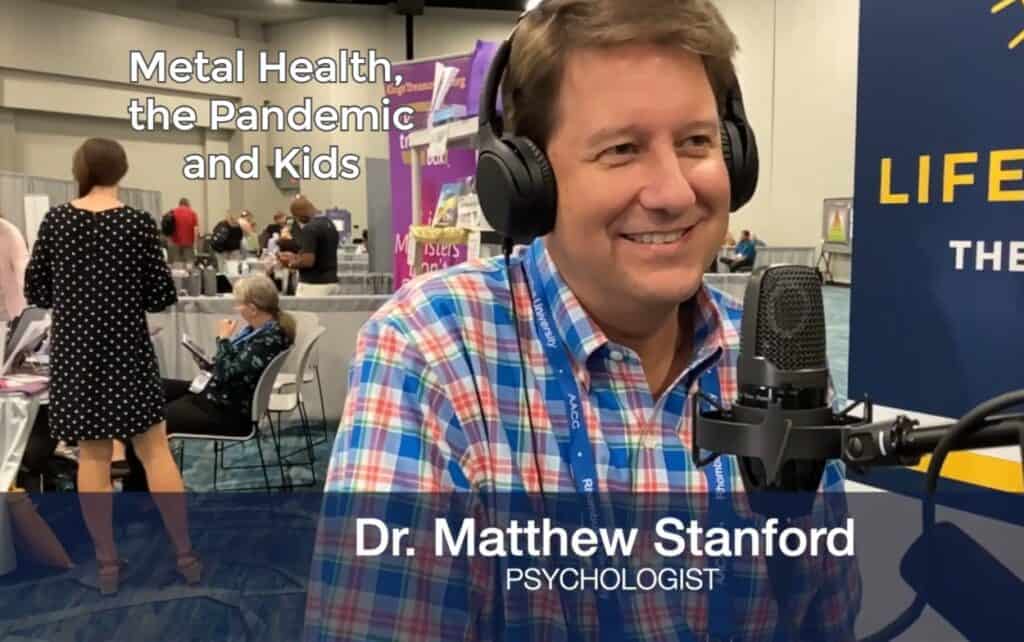 Where faith and mental health meet – An expert voice
Dr Matthew Stanford joined us recently for two episodes of the LifeSupport radio show and podcast.  Dr Stanford is the CEO of the Hope and Healing Center & Institute (HHCI) in Houston, TX and adjunct professor of psychiatry at Baylor College of Medicine and Houston Methodist Hospital Institute for Academic Medicine. Few people are as qualified to speak about the intersection of faith and mental health as Dr. Stanford. He has a PhD in neuroscience and his research on the interplay between psychology and issues of faith has been featured in The New York Times, USA Today, Christianity Today, and U.S. News & World Report.
Here is some of the key information Dr Stanford shared with us.
All LifeSupport Resources
Are FREE For Ministry Use
You can catch both episodes of the full interviews with Dr Stanford on our YouTube Channel
On Motivation For Ministry
I have a PhD in neuroscience… but I'm also a Christian. Knowing I was in mental health, people in churches would pull me aside to ask me questions about their own mental health or their child's mental health. And a lot of times they would ask me questions that had to do with the spiritual aspects of mental health, or tell me something that a pastor has said to them. Sometimes it was pretty disturbing, you know, it was a, you know, your depression's just a sin. You need to pray more or things like that. And that kind of surprised me, cause I didn't believe that then. So I kind of got interested in that and I came across a statistic, a couple of statistics.
One was that the majority of people with mental health problems in the U S never received any treatment. Also the first place a person with a mental health problem is likely to go is to a member of the clergy rather than a mental health care provider and that's anyone in the general population. So I became just really fascinated by that, started looking into that and, and God ultimately used to that to lead me to run a full-time ministry that addresses the intersection of mental health and faith and equipping faith communities be more involved in mental health care.
On How Well The Church Is Responding To Mental Health
When I began this work almost two decades ago, there really wasn't much of a conversation in the church and it was like pulling teeth to get anybody to talk about mental health. Now there's a real conversation. I mean, people are willing to talk about it. It doesn't always go much further than the conversation though. I will say that one of the benefits that's come out of the pandemic, which are very few, is that people generally, even in the general population are very open to discussions of mental health issues now because the pandemic has brought mental health issues to the fore because of the isolation we've all experienced.
Churches have absolutely been overwhelmed by the mental health fallout from COVID so they are much more open now to this discussion of mental health. And so I I'm very, I say cautiously optimistic you know, a conference like this, that there are people who are actually interested in the intersection of mental health and faith and you know, it's excited and exciting to see that. And so I really have a lot of hope for the future of the church in mental health.
Kids are not dealing well with the pandemic.  If you look at the data on kids and mental health issues, since the start of the pandemic, one study came out that said that 50% of the parents of teens are  reporting that their team now has a worsened or new mental health condition since the start of the pandemic. When you expose children, particularly younger children to these adult issues, you know, like, you know, kind of these culture war, mask arguments and issues like those, they simply don't have the cognitive and verbal abilities to deal with it.
So, if they see you having a lot of fear, uh, they're modeling your fear, they're modeling to try to learn, to be resilient and deal with stress. And so if you're absolutely freaking out because your school district has mandated that your child wear a mask. A child doesn't see that as a constitutional issue. They're not able to process it at that level. And so you're damaging your child.
What we're seeing are dramatic increases in depression, anxiety, particularly in female, young females, in numbers we've never seen before, increases in suicide. Because of the isolation and the fear, but also because of this overarching kind of discussion, argument, debate that's going on and they simply don't know how to process it and we're crushing them. And so step back for a moment and don't worry so much about your constitutional rights and worry about your child.
I think that's what Jesus would say. We need to worry about our neighbor. That was in a book I read one time it was in the Royal law or something. But the thing is we're not doing that and our children are suffering and the isolation is really damaging them and we're more worried about whether they have to wear a mask or not and less worried about the fact that they're just being crushed by this.
Three Things That Will Help
Number one, limit the amount of news and media that you're getting because you know, frankly most of it's garbage, it's not much news anymore. We get commentary and it's overwhelming. And so personally, I have a process where I look at several websites in the morning to get some news, and I watch one news program in the evening and that's it. I minimize the amount of news. I want to be informed, but I also want to make sure I'm not overwhelmed with the talking points thing.
Number two, don't expose children to adult problems. I mean, they're obviously exposed to the pandemic, but they don't need to be exposed to your concerns, your anger about this or that, about  mask mandate. A mask mandate issue is not a child's issue, that's an adult issue. And so if you don't believe that your child should be wearing a mask to school, but your school district has mandated it, having a fit at home about it, and how their constitutional rights are being violated, and then sending your kids off to school after hearing you complain about that damaging them. If you want to work to deal with mask mandates, you do that in the background, not with your child. Another thing is, I think you need to sit down and have a conversation with your child. How is this affecting you? The pandemic? How is, how is it affecting them? How do they feel? Are they afraid? Have conversations, have daily conversations about this so that they can have an opportunity to get those emotions out and learn how to express themselves.
Number three, I think you have to not stop living. I think that's what a lot of people have done.  You can look at the pandemic as an opportunity to spend more time at home with your child, work in game night, have devotionals, just watch a movie. We have all this media at home, take advantage of that. Spend time with your children, spend time with your family. Don't stop living just because a pandemic is going on. I also think that people should have days where they don't talk about the pandemic at all.
Pandemic Attitudes Informed By Martin Luther
Martin Luther wrote this great letter. He was asked by a colleague. Was it okay? For Christians to flee the plague, to, to run, to get away from the plague or did that show a lack of trust in God or was it going beyond our calling? and Luther basically gave a very detailed explanation, but he basically said as believers we're going to do what's asked of us because we we've been told by God to obey the governmental authorities, but we're also going to care for those around us. If we are in positions like pastor, or governor, or mayor or if we've been placed in positions where we're supposed to care for people, we're not going to flee because we're going to meet our calling. If we're just a citizen. Who just is supposed to care for themselves or their family. Well, then it's okay to leave.
And I think the same thing here, I mean, I don't, we don't need to get into a discussion whether masks work or not, or whether vaccines work or not, what are we saying to the population about the way we're acting as Christians. Christians care about people. Jesus cared about broken people. We're acting more like we're worried about ourselves.
Read the full Martin Luther letter reprinted with permission at Christianity Today.